VALOREM is ISO 9001:2015, ISO 14001:2015 certified for the following activities:  exploration, surveys, development, purchasing, financing, construction, sale and operation of renewable energy projects and production plants.
VALOREM is also OHSAS 18001:2007 certified since march 2017.
ISO 9001:2015 certification
VALOREM has implemented a comprehensive reorganization aimed at guaranteeing customer satisfaction and transparency in its communications at each phase of a renewable energy project.
Download the certificate
ISO 14001:2015 certification
As a French wind energy pioneer, environmental requirements have always been our prime concern here at VALOREM.
The environmental management system established by VALOREM in 2010 as part of ISO 14001:2004 certification aims to limit our environmental impact at each phase of a renewable energy project and in our teams' daily activities.
Download the certificate
OHSAS 18001:2007 certification
VALOREM has decided to expand its certifications to health and security at work to promote all the work already done by our teams. VALOREM is glad to add this OHSAS certification to our references.
Partnering skipper Lalou Roucayrol
---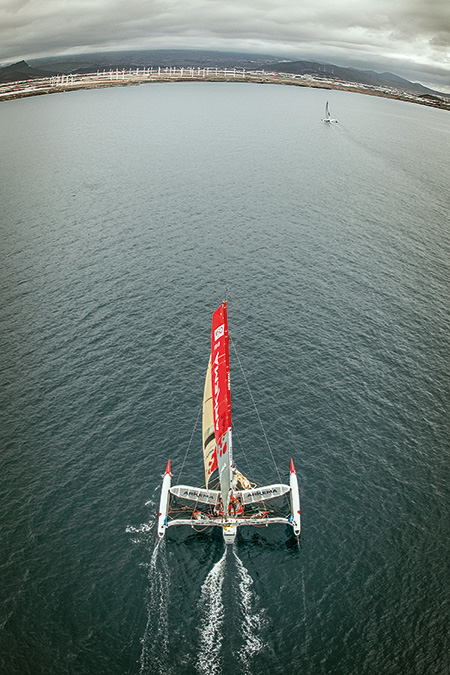 In 2013, VALOREM became sponsor of skipper Lalou Roucayrol and his Lalou Multi 50 crew.
Lalou sails his own boat and shares common cause in embracing technical challenges while exposed to the full force of nature.
After experiencing difficulties during the 2013 Jacques Vabre race, he repaired his multi-hull boat and went on to finish second in the Route du Rhum transatlantic single-handed yacht race. That was his third successful finish, making him the only skipper in its history to win a place on the podium each time he has taken part: he was placed 3rd in 2002, 2nd in 2010 and 2nd in 2014.
In 2015, Lalou and his crew member César Dohy finished third, earning a place on the podium.
With his multi-hull boat dialed-in perfectly this year, Lalou is hoping to finish on top of the podium as often as possible.
Following a second place finish in the Bakerly Transat, the oldest transatlantic race between Plymouth and New York, he gained the top step by winning the Quebec/Saint-Malo in July 2016.
For more information: www.laloumulti.fr
VALOREM, an operator that's committed
---
As a pioneer in wind power, VALOREM is committed to always choosing the right energy source for the right area and informing and working closely with its local partners throughout the long process of project development.
Renewable energy projects are discussed and re-evaluated with local stakeholders (elected representatives, government departments and experts) to ensure that they best fit the needs of both the area and its population.
VALOREM is especially keen to foster local economic development in the areas where it operates, collaborating wherever possible with local companies on construction projects and surveys.
In line with its values and commitments, VALOREM offers crowdlending opportunities wherever possible, to enable citizens to fully implement their own energy generation methods.
Ethics and sustainability
---
As a green energy producer, VALOREM made the decision from the outset to apply sustainable development principles in its day-to-day business. Sorting waste, saving energy, using recycled paper or PEFC-certified paper products and buying eco-friendly products are good practices that are the essence of how we do business.
Carbon Footprint
In 2010, VALOREM analyzed its carbon footprint.
In terms of carbon emissions, company operations produced 400 metric tons of CO2 in 2009. When compared to the carbon footprint of a wind farm, these operating emissions represent around 0.3%.
At the same time, VALOREM surveyed a wind farm's CO2 emissions using the Ademe Carbon Footprint (Bilan Carbone®) method. It evaluated the operating costs of wind turbines to be 750 metric tons of CO2 per MW of power supplied, corresponding to 0.53 oz. of CO2 per KWh – all project phases included – from construction to decommissioning.
Some international surveys, using the same method, evaluate the KWh cost of nuclear power to be 2.33 oz. – four times higher.
The Bilan carbone® method is a carbon footprint analysis method developed by Ademe (French Agency for the Environment and Energy Management) to enable diagnosis of a company's greenhouse gas emissions.
Wind farm life cycle analysis (LCA).
In 2013, VALOREM and its subsidiary VALEOL, in collaboration with research firm RESCOLL, carried out the first environmental impact analysis for the entire life cycle of a wind farm: from design to decommissioning via the production of components and its operation.
The study was awarded the Special Prize for "Science & Research" at the annual EWEA congress in Barcelona in 2014.